Howdy! Welcome to the Texas Frozen Tropics Blog! Texas Frozen Tropics is your premier frozen drink machine rental company in the Houston area. We bring the party to you! We have dozens of  premium flavor options that are sure to please your guests. Check out our website and book your frozen drink machine today! Check out my post below: 5 Local Restaurant Cinco de Mayo celebrations.
Hello!  First of all…
I know that song will be stuck in your head all day now. You are welcome. Can you believe May 1st is tomorrow? When May rolls around, I get so excited.  The school year is wrapping up and the weather is warming up.  This means more time together as a family and more time outside! One of the best parts about the month of May around here is Cinco de Mayo! On May 5th, you can find fun fiestas all around the Houston area celebrating this Holiday that celebrates Mexican culture and heritage. Art, music, food, dancing…what's not to love? One of my favorite things to enjoy on this day is a delicious margarita.
If you live in the Houston area, I have put together a list of 5 Local Restaurant Cinco de Mayo celebrations that are hosting events or running specials on May 5th to celebrate!  Check it out:
Gringo's Tex-Mex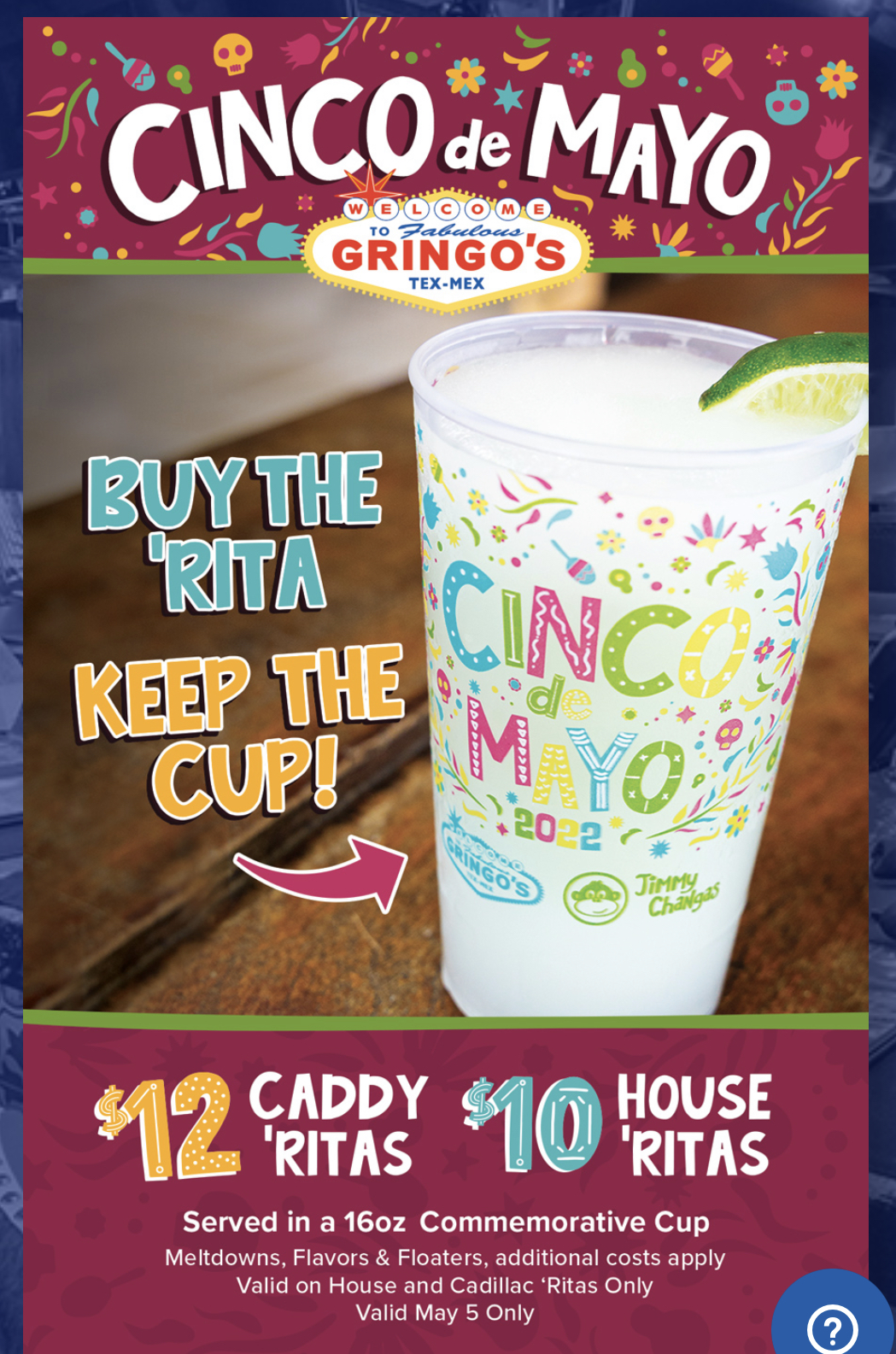 There are several locations in the Houston area for you to choose from. They are celebrating Cinco de Mayo with drink specials all day on May 5th.  Click here to view their website to find a participating location near you.
Fielding's Wood Grill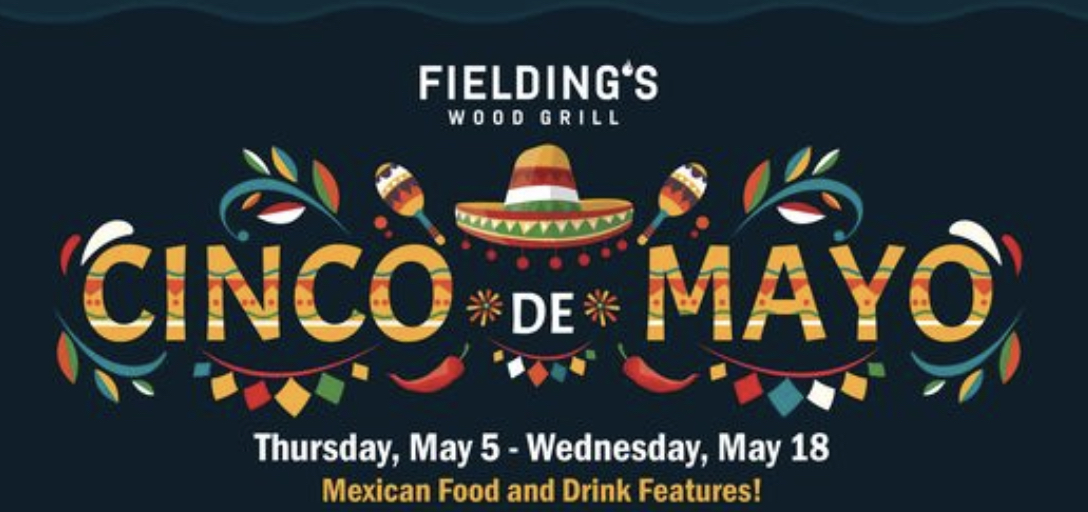 If you live in the Woodlands area (suburb of Houston), this is a GREAT restaurant.  My family and I eat there a lot.  Delicious food and an awesome drink menu keeps us going back.  In celebration of Cinco de Mayo they are offering delicious  features from their Chef and a special cocktail menu with margaritas and tequila drinks from May 5th-May 18th.  Click here to view their website.
Chuy's Tex-Mex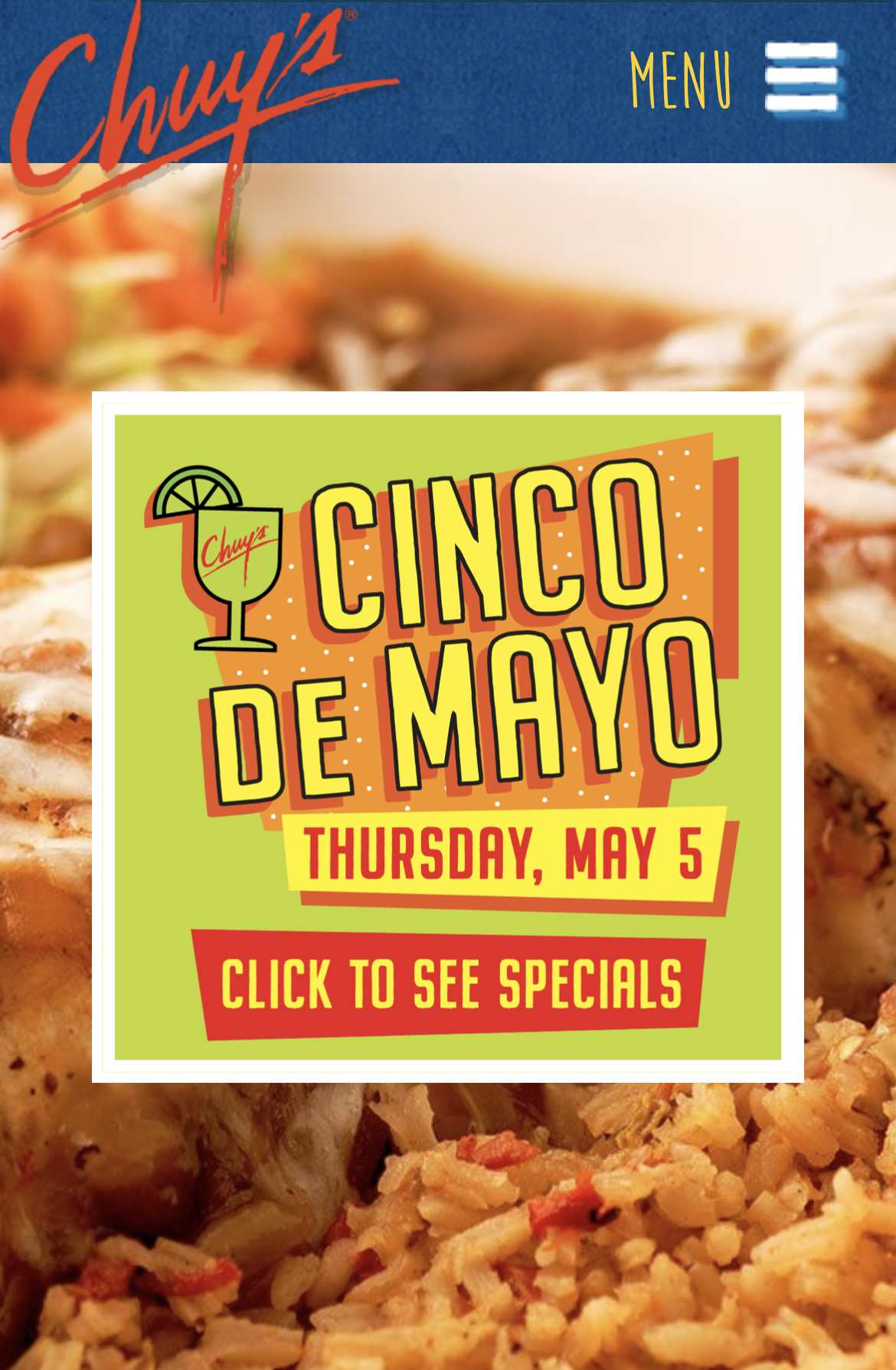 This Tex-Mex restaurant is celebrating with food and drink specials including $5 queso appetizers and Happy Hour all day. With several locations throughout the city of Houston, you will be able to stop in for a nice treat no matter what side of town you are on.  Click here to check out their full menu and other specials.
Uncle Julio's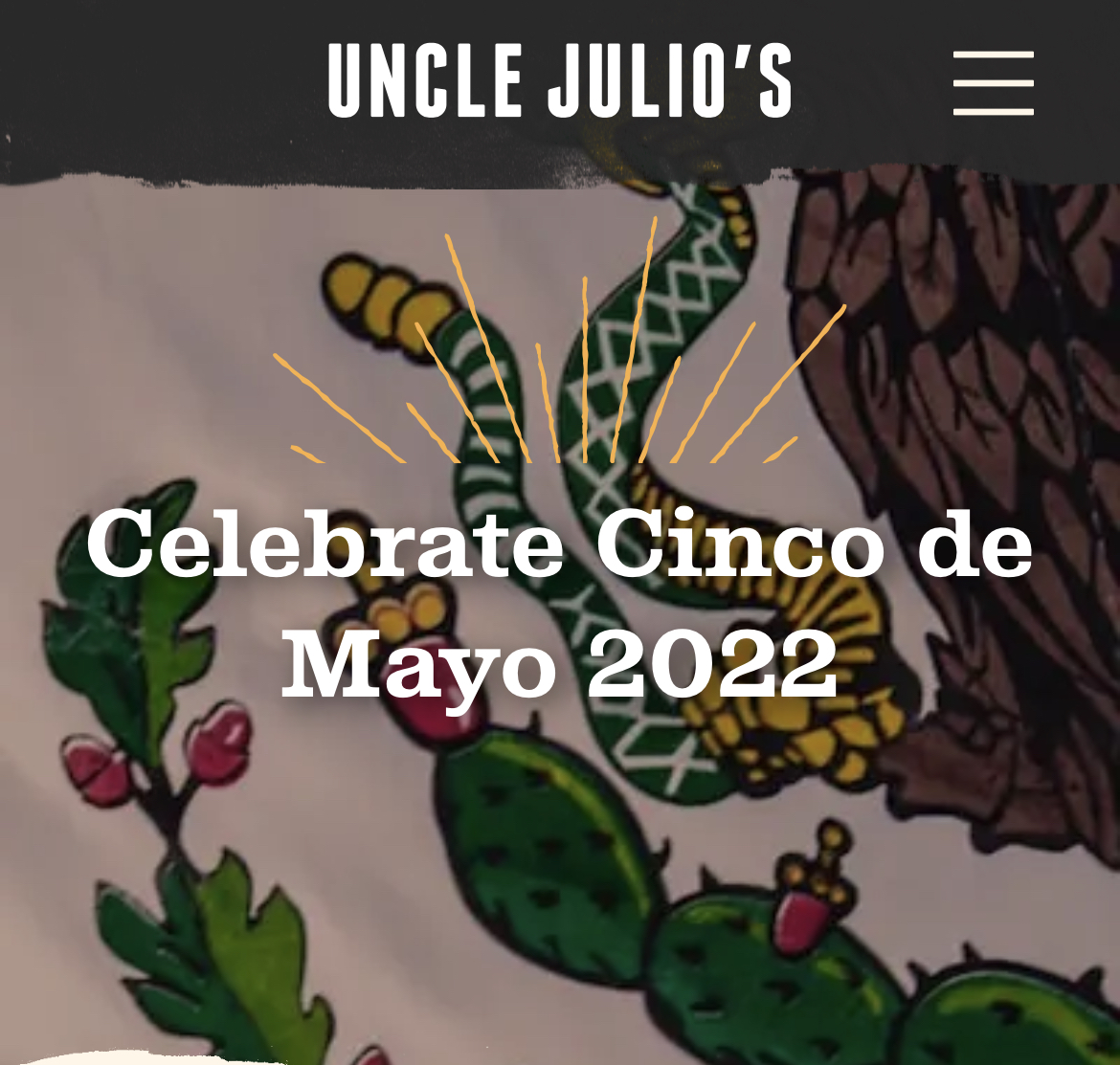 Uncle Julio's is not just celebrating one day in May, they are celebrating the entire MONTH of May.  From Cinco de Mayo to Mother's Day, this restaurant is running food and drink specials all month long. Take a look for yourself: click here to view their website and find a location near you!
Margaritaville Lake Resort: Lake Conroe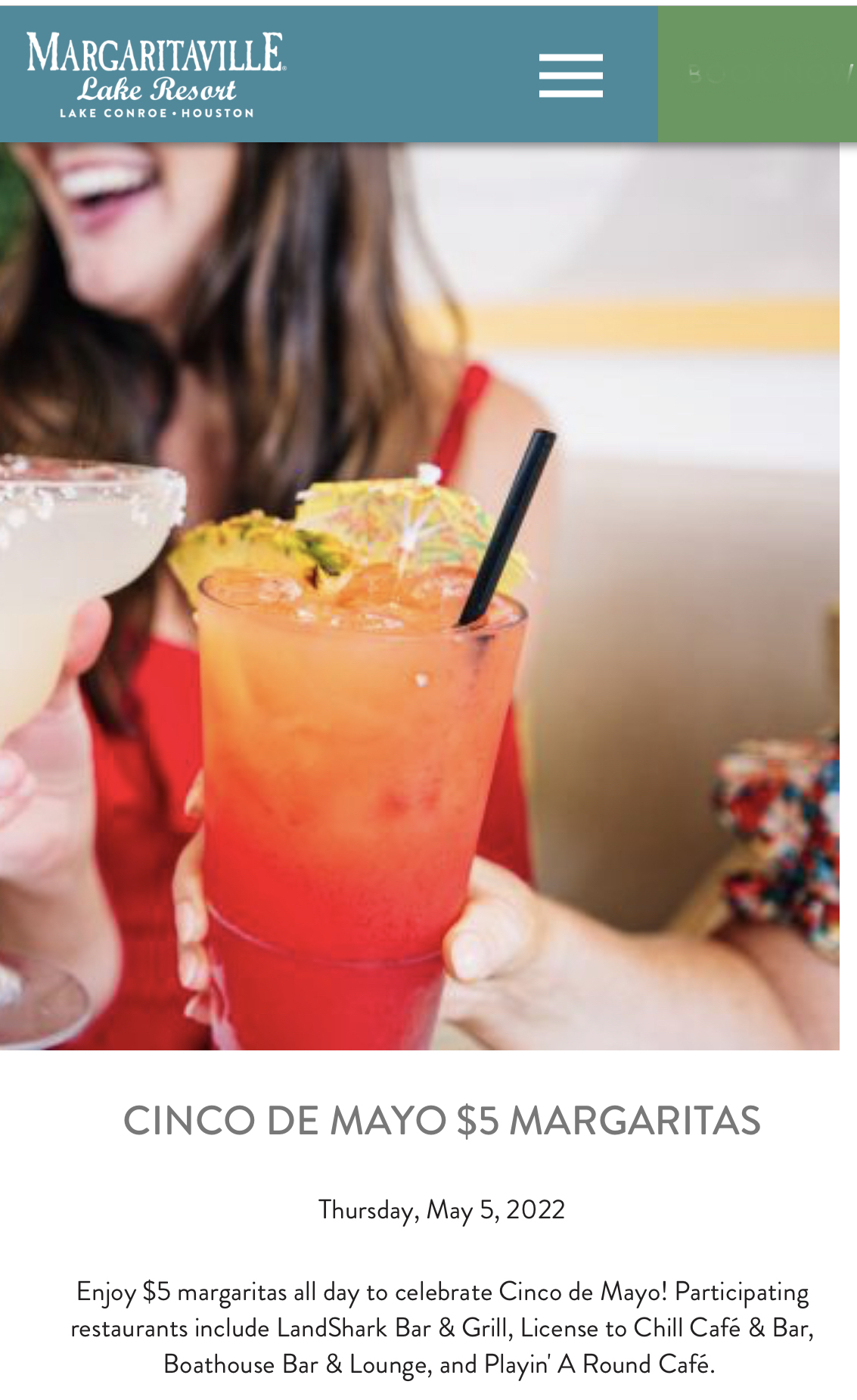 Margaritaville Resort is celebrating Cinco de Mayo with $5 Margaritas ALL DAY.  With several eateries to choose from on site, you can enjoy the view while enjoying a nice cold margarita.  I can tell you from personal experience, a Margaritaville Margarita is literally one of the best I have ever had. Five dollars is a steal for this yummy drink. You can even book a room and enjoy yourself without having to worry about getting an Uber or finding a designated driver for the evening.  Click here to view their website and see all that they have to offer.
Of course, if you don't feel like getting out and about on Cinco de Mayo (it is a Thursday, after all) you can always book a frozen drink machine from Texas Frozen Tropics for your own Cinco de Mayo celebration and serve up some premium Margaritas of your own!  Click here to book your machine!
Party on y'all.
If you liked this blog, check out some of our other posts: 5 Springtime Cocktail Recipes, 3 Grocery Store Party Hacks,10 Quick Tips to Help You Plan Your Next Party, 5 Must-Have Party Rentals for Your Kid's Next Party, 7 Herbaceous Cocktail Recipes for Your Herb Garden.