So you want to host a party?  Not sure where to begin?  Here are 10 steps to get you started on your party planning adventure:
Set a date.

Pick a venue.

Set a budget.

Make a guest list

Send out those invitations!

Plan the menu, including beverages that will be served. 

Decide on what equipment you will need; including rentals.

Entertainment: games, music, etc.

Tableware and Serving dishes.

Decorations!
Let me explain:
Setting the Date: You need to decide when your guests will most likely be able to attend your party.  Are Saturdays better for this crowd?  Or do you think they would come on a Friday night after work? If you are throwing a holiday party that occurs on a weekday (Memorial day, Labor day, 4th of July, etc) would your guests come on the actual Holiday or should you host the party on a surrounding weekend?  These are just a few things to consider when choosing your date. 
Venue: Consider the time of year you are throwing this party. Are you wanting a casual party that you can host at your home or in your backyard? Could you host your party at a local park? Does your church have a space you could use for the day?  If you are wanting to rent an actual event space, you will need to make a list of venues you are interested in booking and begin calling them in order to reserve the space.  You should do this at least 1 month out.  Make sure your venue is confirmed prior to sending out invitations.
Budget: Be realistic.  Do not overextend yourself. Whatever budget you set, try to stick to it.  You may want to consider asking others if they would be interested in co-hosting this party with you. If you have co-hosts then you can pull your resources together and possibly be able to increase your budget. 
Guest List:What this really comes down to is…know your crowd.  Know the type of party you want to throw and then invite people who would enjoy themselves.  If you are trying to throw a party that would require people to dress in business attire, then I would not invite Bubba from down the road who has never worn a pair of slacks in his life. On the other hand, if you are planning on serving alcohol and "letting loose" then I probably would not invite my boss.  You get the picture. 
Invitations: Keep is simple. If everyone on your guest list has access to e-mail or social media, just send out an invitation electronically.  It is perfectly acceptable these days to do so and it is also FREE. Otherwise, you can always rely on the good ol' US postal service to deliver your invitations.  If you opt for physical invitations, make sure you budget for them.
Menu/Beverages:  There is a lot to consider here.  Are you going to prepare the food yourself or cater? Either way, make sure you have several options to accommodate the diets and/or palates of several different people.  Will you be serving alcohol?  If you are preparing the food, make a grocery list.  If you are catering, start calling around to different local caterers to get pricing/menu options.  
Equipment: This is very important!  You need to decide if you want to rent any equipment like a frozen drink machine (if you want that specifically, then check us out at www.texasfrozentropics.com). You could also consider renting cotton candy machines or popcorn machines for something fun/different. Having something unique like this can definitely make your party memorable. 
Entertainment: Games? Music? Inflatables?  Decide what your guests would enjoy!  There are tons of party game ideas on Pinterest.  You can make a playlist or even hire a DJ if your budget allows.  Inflatables are a GREAT idea if there will be kids there.  Check out your local rental companies to see what is available.  
Tableware/serving dishes: If you have decided to cater your event, some caterers will set up all of the food for serving as part of the cost. If not, make sure you have enough serving dishes.  Decide if you will be using disposable tableware or not.  If you do, have a trash can accessible to your guests so they may dispose of their own plates.  If you are not using disposable tableware, it would be a good idea to have a place for your guests to set dirty dishes once they are finished.  
Decorations: This is the fun part!  Go wild…but stick to that budget.  Pinterest is great to use to search for party decor/themes. Some of our customers recently hosted an NFL Fantasy Draft Party.  What a great idea! Check out some pictures from that event: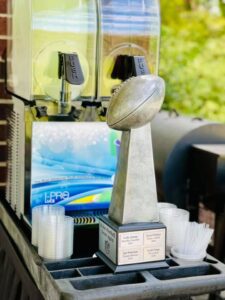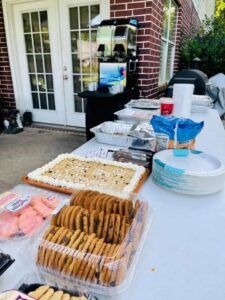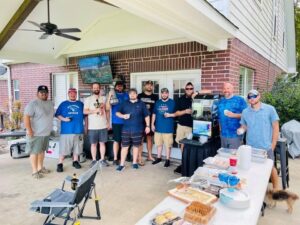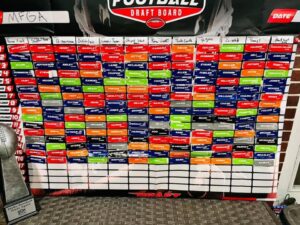 Happy Party Planning!