Hello! Welcome to the Texas Frozen Tropics Blog! Texas Frozen Tropics is your premier frozen drink machine rental company in the Houston area. We bring the party to you! We have dozens of  premium flavor options that are sure to please your guests. Check out our website and book your frozen drink machine today!
Let's "Par-Tee!"
My golf-obsessed dad turned 60 years old on October 30th.  This man has never had a birthday party in his life (I am pretty sure that is NOT an exaggeration).  He works really hard and then spends most his free time golfing. So, naturally we chose a "golf theme" for his 60th birthday party.  We scoured the internet for golf themed ideas (decor, food, games, etc) and ended up with a great result.  I figured I would break down exactly what we did so that you too can throw a fun golf "par-tee" (see what I did there) for your golf pro.
First things first: the Menu.  We opted to go with a Burger Buffet. Our spread consisted of: Burgers with all of the fixings, deviled eggs, pasta salad, and chips and queso.
For the burgers, my husband and brother-in-law love to grill and don't mind being assigned that task. They seasoned and grilled the burgers to perfection.  If you are wanting to make burgers for your party but don't know where to start, this is a great basic recipe and similar to what we do to our burgers.
Deviled eggs are a classic southern party staple.  They are easy to make and are a crowd pleaser.  This is the recipe I use to make my deviled eggs. There are probably hundreds of variations for this recipe.  My sister adds bacon and jalapeño jam to hers and they are delicious.  It is fun to take a basic recipe and add your own twist.  I dare you to try it!
Next, the pasta salad.  Pasta salad is a great choice for a party like this because one recipe makes a lot and it just gets more delicious the longer it sits. We served a Mediterranean style pasta salad and it was a big hit.  You can customize the recipe to your preference.  I hate olives, so I left it out of this recipe.  I also used zucchini instead of cucumber because my husband hates cucumber (he says its flavor is too overwhelming: insert eye roll). I will link the recipe we used here. 
Chips and queso because…TEXAS, baby.  If you live in Texas and do not have chips and queso at almost every party that you throw, are you even Texan?  This easiest thing to do is throw all of your ingredients into a big ol' crock pot and let the magic cooking device do it's thing. Pro TIP: Use a CROCKPOT LINER y'all.  It will make your life so much easier when you are cleaning up at the end of the night.  My sister has the easiest recipe for questions: Check it out…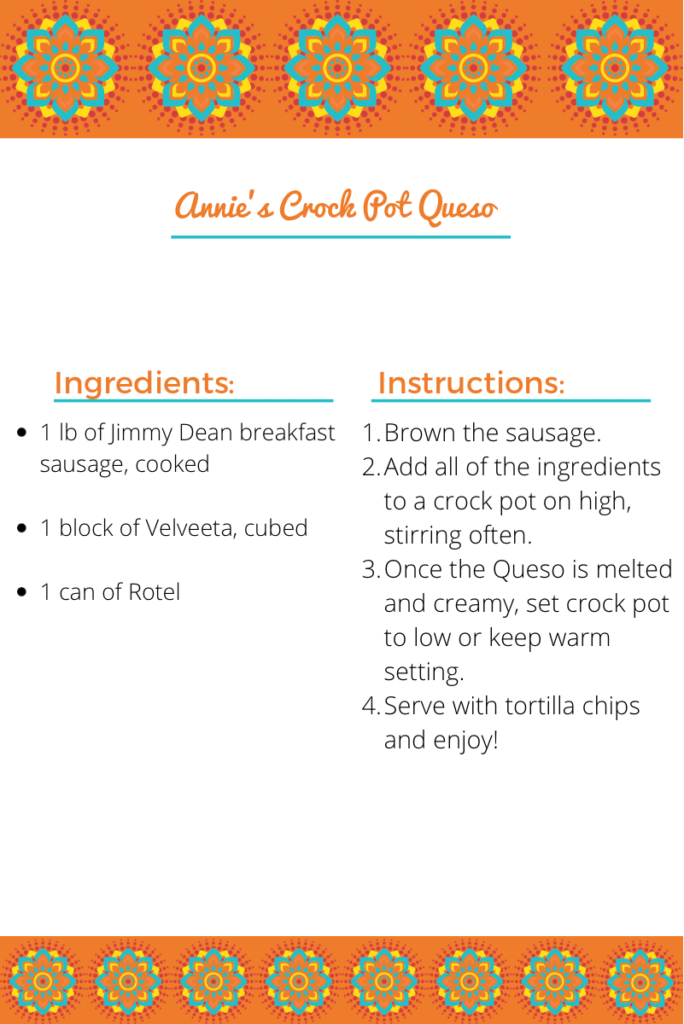 Now that we covered the main menu, let us talk about dessert.  We opted for a homemade coconut cake (dad's favorite) and delicious chocolate and vanilla cupcakes from Sam's Club.  We added some fun decor from Etsy and it turned out great!  See for yourself: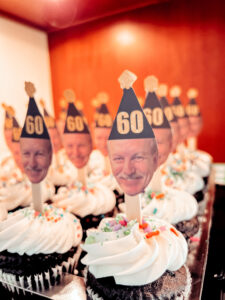 Link for Personalized Cupcake Toppers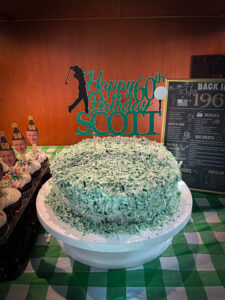 DRINKS.  I almost forgot about DRINKS.  If you live in the Houston area and need a frozen drink machine rental for your party, Texas Frozen Tropics is your premium, go-to frozen drink machine rental company.  We opted for: Sweet "tee", Marga"tee"tas (margaritas), Scotty's Caddy Shack Special (Strawberry Daiquiri), Arnold Pamlers, and a John Daly (which is just and Arnold Palmer with a little Vodka added in) as well as a selection of wine that we labeled "on hole wine".  My sister created adorable labels for the drinks. Another good tip: make sure to label your drink selections.  People don't like guessing what they are about to drink.  Here are a few pictures!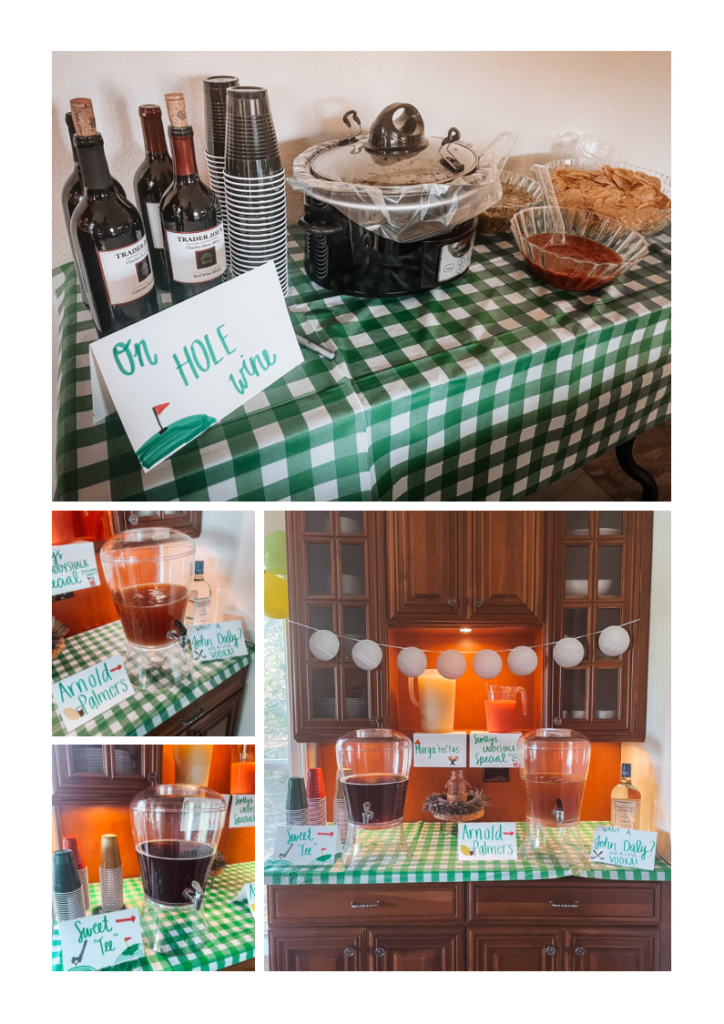 Decorations: Pretty much everything we used was ordered from amazon. Balloon garlands are a pain but they make a big impact and are pretty cheap if you do it yourself. I will link our amazon decor purchases here: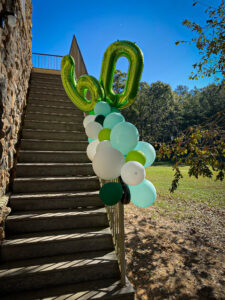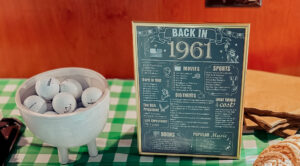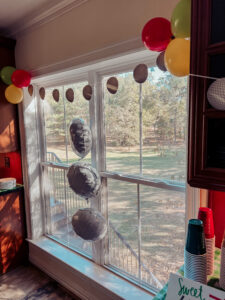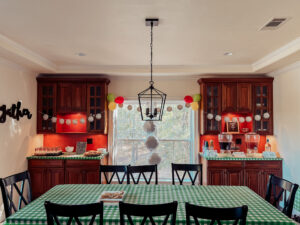 Golf Ball Balloons and Garland
Entertainment: Music. My sister created a master playlist tailored to perfection for my dad.  We bought this speaker as a "gift" for dad but also to use at his party (2 birds, 1 stone..am I right?). This speaker is excellent quality and would definitely recommend.
Games: We bought some fun (inexpensive) outdoor games to keep the kids entertained. The store, Five Below is an awesome place to find inexpensive things for kids.  We found a horse shoes game, ladder golf, and a velcro toss and catch set.  I also found a glow stick pack at Target that was also a big hit once it got dark!
It was so wonderful getting to celebrate my dad.  We had an amazing turnout which is just further proof that my dad is loved by many.  He said he would give his party a 5 star rating.  You can't beat that.  So, if you want to throw a 5-star Golf Themed Party for your loved one…this post is a great place to start! Happy planning!
If you like this post and want more party planning tips or hacks, check out some of my other blog posts.