We hope you had a wonderful Thanksgiving Holiday with your loved ones. Here at Texas Frozen Tropics, we want you to know that we are THANKFUL for all of you. For your business, for your trust, your honest reviews and your recommendations to your friends. We feel the love and we are grateful! Check out our website and book your frozen drink machine today! Enjoy today's post: Christmas Light Displays in the Houston Area 2022.
Christmas

Time

Is

Here!

Well, here we are. Christmas is upon us, in case you didn't know. I mean, Hobby Lobby has had their Christmas stuff out since October so you knew it was coming. But I am here to tell you…it is already here. I don't know about you, but driving around at Christmas time looking at all the lights has always been one of my favorite traditions. In recent years, the Houston area has really upped their Christmas light game. Whether you want to admire the twinkling lights from the comfort of your car or if you'd rather get up and walk through a shining holiday scene, H-Town (and surrounding areas) has got you covered. Here is a quick list of some of the Christmas Light Displays in the Houston Area 2022.
1. Lightscape at Houston Botanical Garden
Now this is cool. If you are looking for that Christmas light feel but want to experience something a little more unique and awe-inspiring, this is the place for you. You can purchase tickets and get more information on their website. Check out this video from their website below:
2. Festival of Lights at Moody Gardens
The Festival of Lights is just one portion of a large scale holiday celebration at Moody Gardens. Not only do they still have their year-round attractions like the aquarium and discovery museum-but they have incredible special events like Ice land (imagine walking through a town built of ice…pretty cool) and the Arctic Slide. You can pick and choose which events you'd like to buy tickets for or you can buy passes for everything! Check out their website for more information: https://www.moodygardens.com
3. The Light Park
Enjoy the lights from your car! There are actually 2 Light Park locations in the Houston area: Katy and Spring. Tickets are priced per car, not per person. You can listen to music, eat a snack, you can even bring your furry friends along for the ride! Here is the link for their website: The Light Park. My family and I are definitely hitting this place up this year!
4. Sugar Land Holiday Lights
There is plenty to do beside just looking at lights when you spend your evening at Constellation Field in Sugar Land. Their website promises over 3 millions lights, great food, 10 themed areas, holiday shopping, movie nights, Santa Clause and more! You can find more information on their site: Sugar Land Holiday Lights or find them on social media!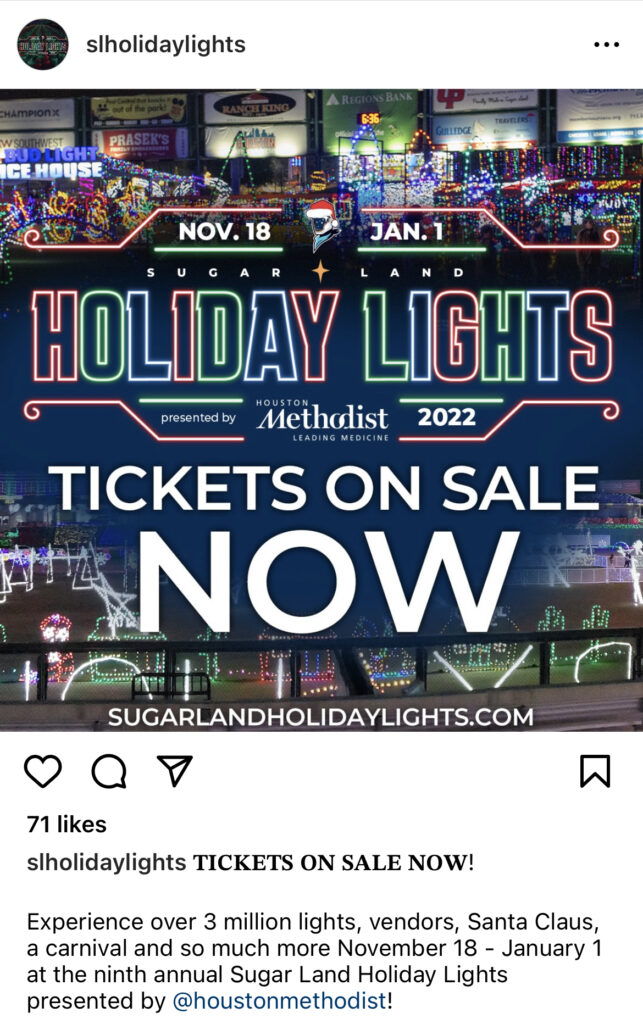 5. Market Street Lights
Want more of a low-key situation? Market Street in the Woodlands has tons of shopping and great restaurants. This time of year they decorate the entire place with Christmas lights and have a HUGE Christmas tree in the middle of the common area. Starting every evening at 5:30, a synchronized light and music display plays every hour on the half hour. It's sure to delight your kids!  You can even schedule a picture with Santa Clause. It's great for kids and it's FREE (unless of course you do some shopping while you're there).
6. Santas Wonderland
Now, this one is a little further away. You will have to travel to College Station, Texas for this spectacle. My family and I have been several times and it never disappoints. Music, games, a rodeo, food, adult beverages, shopping, ice skating, petting zoo, photo ops and a hayride through the trail of lights. It isn't for the faint of heart. May I suggest buying the VIP parking lot pass…it is worth every penny. It's usually pretty crowded but its worth the effort to see your kids light up in the magic little town they've built. You can find more info here: Santa's Wonderland. Enjoy these pictures of my cute kids enjoying the hayride through the lights last year: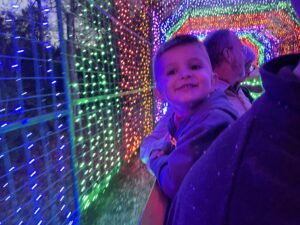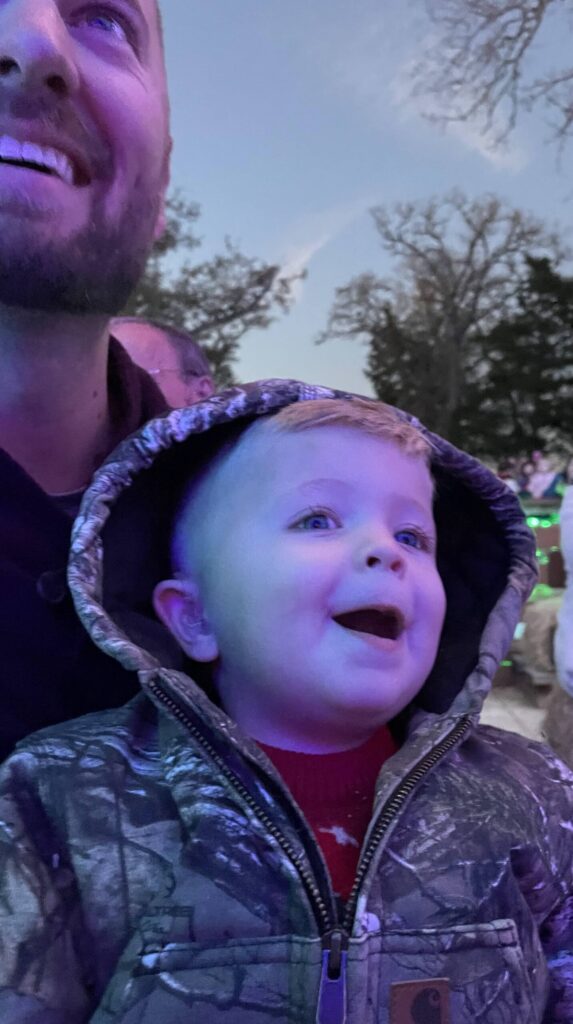 7. Zoo Lights @ the Houston Zoo
I have lived in the Houston Area for over 10 years and have never been to Zoo Lights! Although I've never been, I know people who go every single year. It is on my Holiday Bucket List for sure. It is sure to delight the whole family. Take a look at this video from their website:
8. Magical Winter Lights
Located at Houston Raceway Park in Baytown, Texas is this incredible Holiday display with more than 6 million lights! It doesn't have "magical" in the name for nothing. This is spectacular. It isn't merely twinkling little Christmas lights but massive, multicultural lantern displays that are sure to leave you in wonder. You'll have to see this for yourself.  Want to see the magic? Click here: Magical Winter Lights. 

I hope you'll carve out some time this Christmas season to spend time with your family. Don't let the season slip away without making the memories that your children will hold on to all year. I am going to take my own advice. Now excuse me while I got buy some tickets! Merry Christmas, y'all!
If you liked this blog post, check out some of our others here: Is Renting a Frozen Drink Machine Really Worth It? , 7 Christmas Traditions to Try This Year,5 White Elephant Christmas Party Themes